Colours
Our wall names are made from top quality high gloss acrylic or wood veneers. The glitter colours are still gloss acrylic - the glitter is embedded into the acrylic and as such won't flake off!
For the wood colours, they are veneers - so they are real wood on the surface!
The mirror colours are single sided. On the reverse is a white or grey backing, which should be handled carefully to avoid scratching.
Durability
We're going to be upfront - these names are display pieces and are delicate! They are designed to be affixed to a wall and not to be dropped or played with. If you have any issues, we will replace your wall names - so don't stress if something goes wrong!
They're quite thin - 3mm to 5mm thick depending on material. They can't stand by themselves on their edge.
Mounting and the optional permanent adhesive
We generally recommend mounting these with lots of fresh blu-tac. We say fresh as blu-tac can degrade over time. Also, blu-tac may not work well in hot or humid areas. For the vast majority of cases, blu-tac is the best bet as it's the easiest to remove in the future with minimal effects on the wall.
However, we can optionall supply these with a permanent double sided tape applied. It's applied before cutting, such that it covers the entire back surface. In this case, it's perfect to apply to painted walls and sealed surfaces. Please note though that it is permanent, and will result in damage when removed from the wall or surface that it's on.
The permanent adhesive option is great for applying to things like wishing wells, toy boxes, keepsake boxes, christening and baptism boxes... and so many other things than are listed here!
Sizing
We offer three sizes - 5, 10, and 20cm high. This is the height of the capital letter. There is a maximum width of 50cm for the 5 and 10cm size, and 60cm for the 20cm size. If your inputted text calculates wider than this, the height will be reduced to make the width fit within 50cm, whilst retaining the proportions of the text.
The diagram below shows how the sizing works.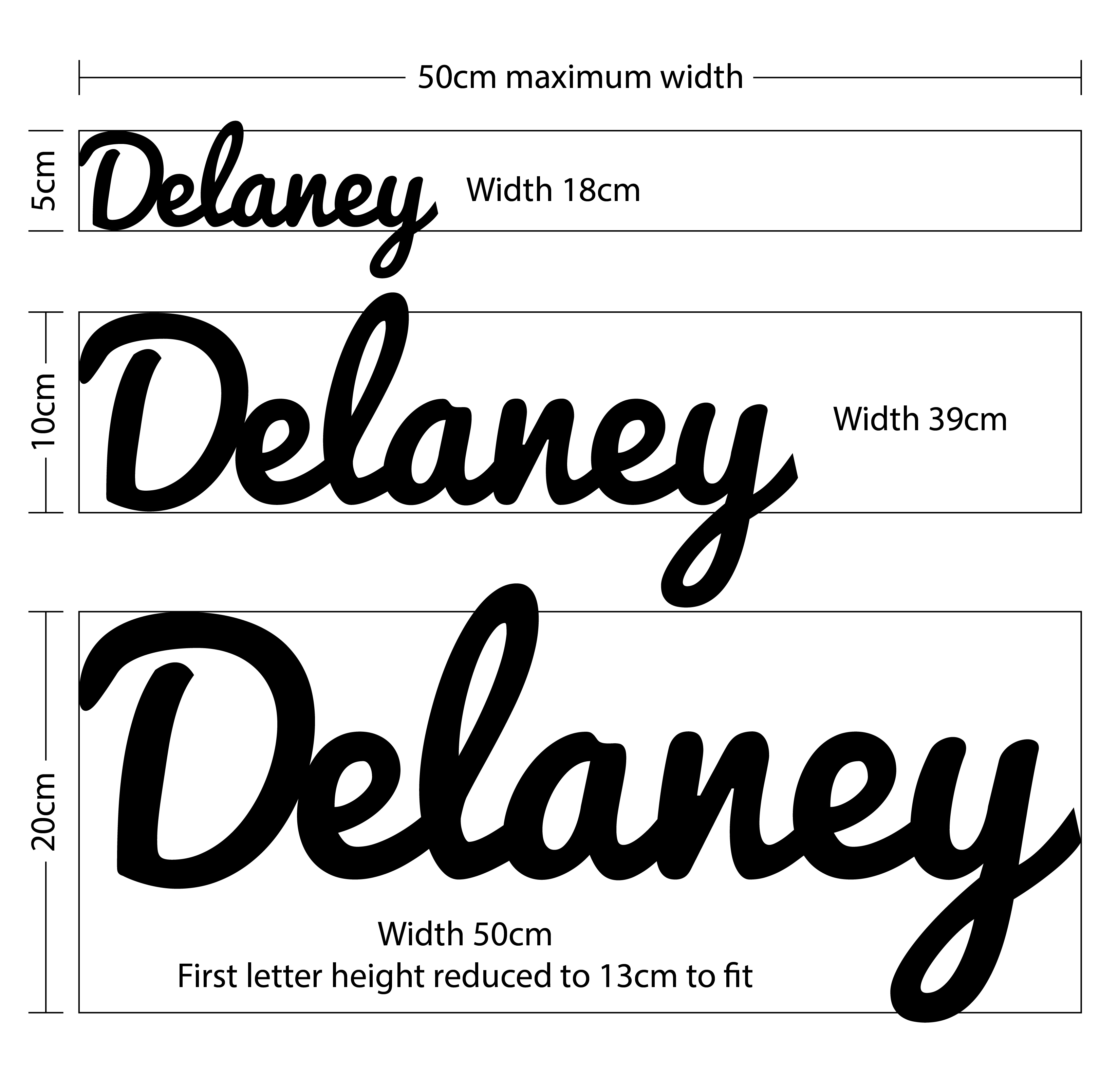 Lead time
When you place your order, we plan to cut and ship it within 5 working days. If there is a delay for any reason, we will immediately get in touch with you and keep you up to date. We're generally much faster than this, however!
Preparing the artwork
The preview shown above is just indicative of the final product, although it will be close! We will adjust the lettering slightly to make them all join together, usually by adding additional ligatures to the text.
We will send you a preview of the final name for approval, which shows the final sizing of the name. We're happy to adjust, and require your approval before we make your order.
Shipping
This item ships for free Australia wide.