Looking to bring your jewellery earring designs to life? We're equipped with the latest, cutting edge technology in this area, with three laser cutters and two UV printers. Our expertise in this area and keen eye for detail will ensure high quality products for the perfect result! The possibilities are unlimited, with our ability to print in small batches (minimum 10 pairs per design), right up to large batches with pairs numbering in the hundreds.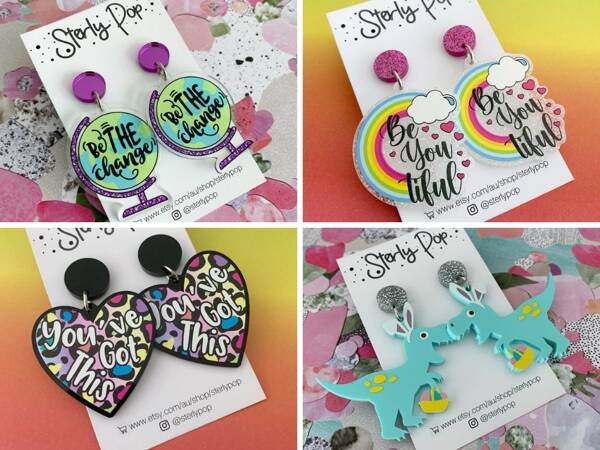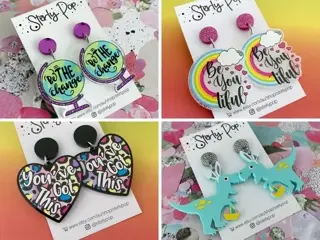 What we can offer you and your business
We can take your designs, from vector files or raster image files (of a suitable resolution!) and bring them to life in full colour printing on top of various acrylics. We have a huge range of acrylic colours to print on, and our attention to detail is second to none - if it's not perfect, we don't ship it out!
We can do small runs starting from 10 pairs per design, right up to large scale batches with hundreds of pairs if required.
How it works
Here is the brief overview of how it works
Place the order with us, preferably online via our wholesale UV printed earrings page.
Send us the files (either online or via email) for your earing design. Include details such as sizing in cm for the design, whether your designs are to be reflected (mirror
image) and if they require a hanging hole or not.
Once these details are received, we will confirm the artwork with a proof, to confirm sizing, and the final shape of the earring - we regularly make earrings that are shaped for their artwork!
Once the artwork proof is approved, we will prepare the artwork for printing, and manufacture an appropriate jig (which is used to align the earrings in the printer!). The jig is re-used if you order additional earrings at a later date!
We'll arrange to print everything, quality control it, and then get it sent out to you!
What colours can we print on?
Our most common colour for earrings is actually clear! We print on the reverse of clear acrylic, which is then viewed from the front, giving the print a glossy final finish. However! We'll note that the final back is white - for technical reasons, we print colour and then white over this colour to get the correct colour definition.
We typically use 2mm thick white, clear, or black acrylic to reduce the weight of the earrings as much as possible.
We can also print onto our range of solid and glitter colours too; the glitter white and glitter black are popular choices for this one.
We unfortunately won't print on mirror acrylic. This can damage the incredibly precise UV printers and as such, we have made a decision not to print on any mirror acrylic. This ensures that our UV printers continue to function correctly and provide high quality printed images.
We can also print onto our wood veneers! They are pre-finished with a funiture grade lacquer first and then printed, which gives them a luxurious feel. There isn't a size limit for this one and we can do them as studs too. The resolution when printing on wood is slightly lower than on acrylic, but still more than enough to look amazing. Also, the print may have some extra texture due to the wood surface, although this is minimal with our lacquer process which makes the surface very smooth.
You can see our main colour range here on the earring and jewellery component colours page.
What designs can we print?
There are two aspects to what we can print for you on earrings! We're happy to work with you to get you the result you need.
How we handle your designs
Any designs that you supply to us are your property, and always remain your property! You can ask us for a copy of any alterations or preparations we've done for your designs at any time and we'll supply all the original vector format files.
Your designs will never be used for another customer or our own products. We take this very seriously!
We can only print your original or licenced designs
Most of our earring customers either purchase designs from graphics websites that we then print, or make their own original designs for us to print. This works great as together we control the quality, and we know that there is a suitable licence to use the images.
We unfortunately can't reproduce any copyrighted designs without permission from the original copyright holder. This also includes files that you can sometimes purchase on craft sites - certain craft sites will happily list files for sale that do not have permission from the original copyright owner. If in doubt, please get in touch with us and we can let you know which ones we will and won't print, and why.
Copyright is very important to us - it's one of our core business values.
Technical aspects of what we can print
Like many art forms that exist in this world, there is a dance between what the technology can do and what our minds can imagine! UV printing is no different in this regard, and designs do need to take into account some physical realities of printing!
Most of the limitations lie around how small we can print. To print on the reverse of clear acrylic, we need to print the colour first, and then cover this colour with white ink to get the correct colour definition. The white ink printing does limit the smallest size of some details; we have technical and design ways to work around this based on the several hundred different designs we've printed for various customers.
The short answer is it's hard to encapsulate all of this in just a few sentences. However, get in touch with us and we can advise you on how to bring your idea to life!
Supplying the artwork to us
For the absolute best results, a vector file - like a PDF, Illustrator file, SVG, EPS, or similar - will allow us the most options for preparing the artwork perfectly and creating the shapes for you.
The next best is the highest possible resolution PNG file you have, with a transparent background. For printing, it needs to be at least 300dpi at the printed size, but we do like 600dpi or better!
After this - please send us whatever you have and we can look at it and let you know how it will go! JPEGs can work if they're a high enough resolution. If the artwork is simple we may vector trace it for our purposes (if it's a simple automatic trace).
We'll work with you to come up with the right artwork for printing to give the perfect result. We're kinda pedantic about getting the perfect artwork for printing!
If you're creating the artwork in Procreate or another drawing app, please get in touch with us and we'll let you know the right settings to get started for the best results.
Pricing and the setup fee
We have a fixed rate per pair of earrings, as described on the ordering page. For the very first time we make a design, we need to setup that design for our systems - that is, preparing the print layout, calculating and designing the white printing layers, designing and manufacturing a jig for alignment, aligning the printer with the jig (down to 0.05mm to get the perfect alignment). This all takes time! So we have a one-off setup fee for each design. The jig is durable and we store them after we use them for your next order, so subsequent orders for the same design don't need the setup fee.
Typical setup
The most common setup for an earring we do is as follows:
Add a 1.5mm border (unprinted) around the design, and shape the acrylic to match your design very closely.
Add a 2mm diameter hole for adding your findings (or omit the hole in case it's a stud!).
Lead times
For new designs, we need a few days to prepare all the artwork and jigs. Then, once we're all set up, we can turn earrings around quite quickly! The standard lead time is 5 business days; we're often faster than this. If we have delays, or it's a large order, we'll let you know and work with you to get you what you need in a suitable timeframe.
Some examples of our printing
These images are courtesy of SterlyPop, and are original designs that she has commissioned herself. We've chosen a set here that show off a range of our capabilities!
Printing on the reverse of clear for a gloss finish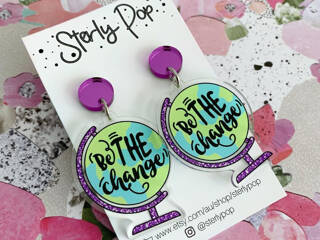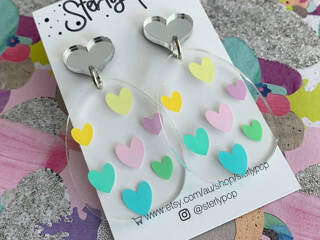 This is the most common setup - printing on the reverse of clear acrylic. Note the border around the edge to allow the design to be seen clearly.
Printing on glitter acrylic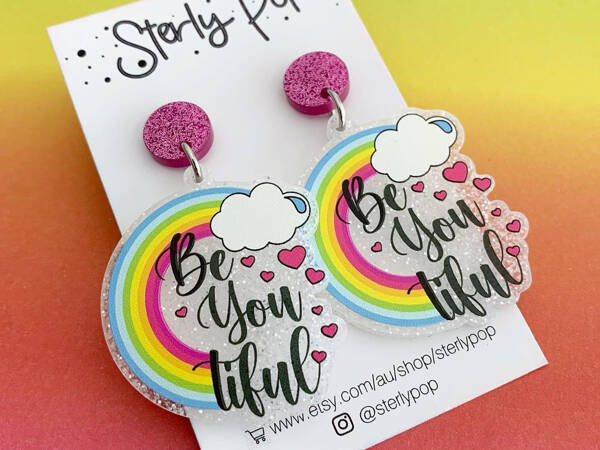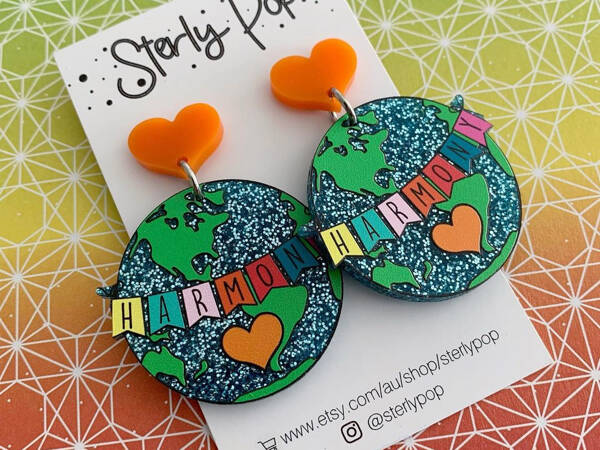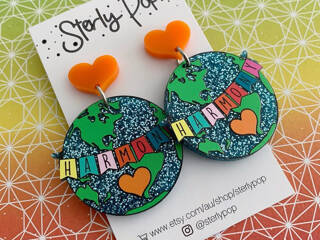 These two show printing on our glitter white, and glitter light blue. For the Harmony Day earring, we've printed right to the edge of the acrylic; it's not commonly done but it's possible!
Printing on white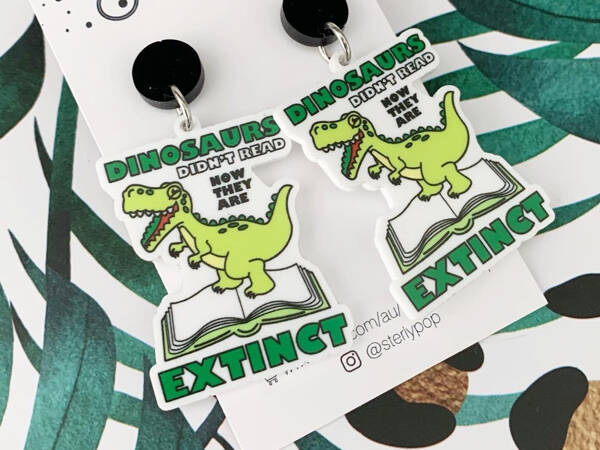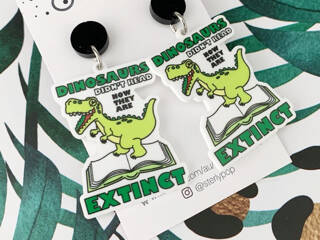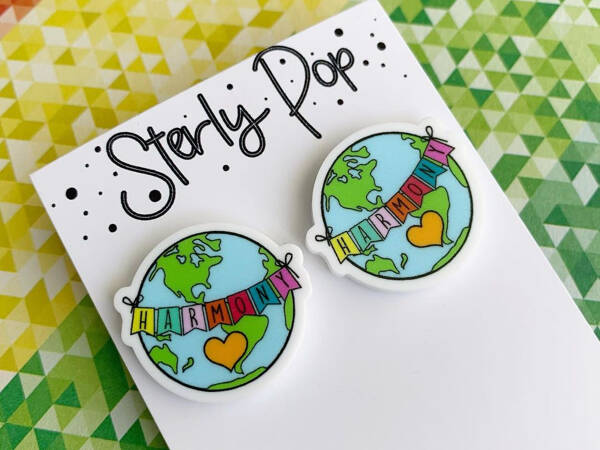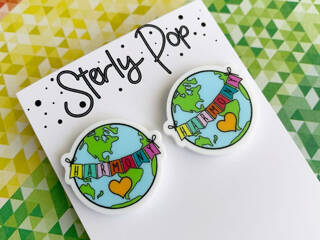 Printing onto white works very well and gives the best colour definition. It's also best for printing on studs - as you can then glue the stud to the back where it won't be seen, and won't interfere with the print as it would on the back of clear.
Printing on black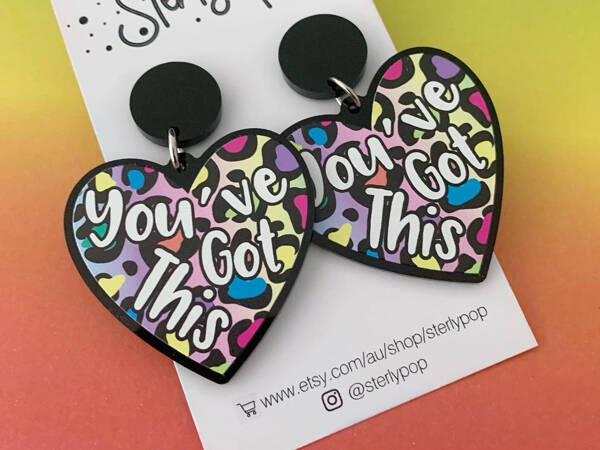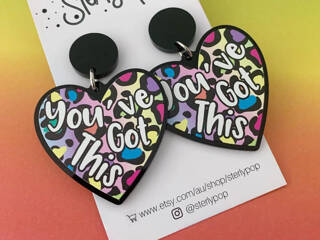 For a stunning statement, try printing on black! Not all designs work well on black, and the resulting print is a matte/satin finish - but for many designs it's a beautiful choice!
Are you ready?
Please get in touch with any questions that you have, or go ahead and play with the online ordering system. We're delighted to assist in bringing your designs to life!
Want to know more about UV printing?
We've published a blog post that has details about what UV printing actually is and how it works. If you're really curious, it is worth a read!